Just like life, riding my bike doesn't always make sense. But that's why I love it!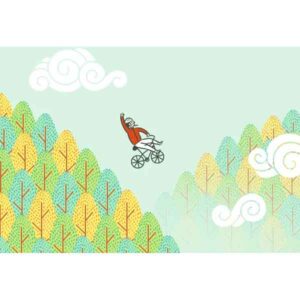 It's one of the rare things in life that lets you escape from the world, while also connecting you to it. I love to spin my way through forests, around lakes, and into little communities, I never knew existed.
Along the way, my brain disengages from stress. Life quiets down to simple rhythms. Problems seem to evaporate. Throw in a good podcast or music, and I'll be gone for hours.
On a nice long ride, you start finding new layers of yourself, new bursts of energy. That's when I feel like my body is actually incinerating little stresses and toxins I've accumulated.
I'm glad cycling has helped me stay healthy. But I love that it's given me a place to depressurize. Leaning over my handlebars, I've come to terms with setbacks and made plans for the future. It's where I realized I should propose to my wife. It's where I mourned my mother, after she died of ALS. And now it's where I think about my own kids.
The physics of bicycles may still be a mystery, but lots of things in life don't make sense. And they don't always have to. You've just got to keep moving.
Stay tuned for more from Bill Chappell…
Thanks for your Wisdom Bill Chappell