This Video Says It All!
Join us on our Coronado Bike Tour! Located just across the San Diego Bay from Downtown San Diego, home to the historic Hotel del Coronado and the iconic San Diego-Coronado Bridge, sits the picturesque, coastal community of Coronado, CA. At just 32 square miles, Coronado has a small-town atmosphere, filled with rich culture and history and beautiful sandy beaches.
With wide tree-lined streets, beautiful, old-world mansions, and a variety of unique boutiques and restaurants, Coronado is the quintessential, seaside town.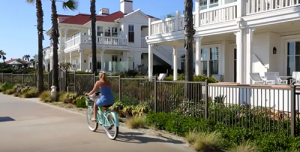 With a year-round Mediterranean climate, Coronado provides the perfect environment to participate in outdoor activities. Ride your bike along Coronado's 16 mile bike path!
The Coronado Ferry Landing has a variety of fine and casual dining restaurants where you can dine al fresco while enjoying the amazing views of the downtown San Diego skyline.
Coronado is known for its pristine sandy beaches with sand that truly sparkles, courtesy of the mineral Mica. Great for families, the sand is wide and the surf gentle, making it the perfect playground for families to enjoy building sandcastles and frolicking in the waves.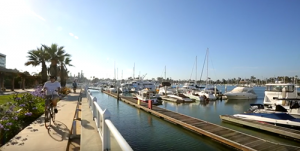 No trip to Coronado would be complete without visiting the famous, Hotel del Coronado. Be sure to walk around the seaside resort, take in the stunning architecture and read about the rich history of this luxury hotel!
With Coronado being only two miles from Downtown San Diego by car or a short 15-minute ferry ride, residents can enjoy their private "island" away from the hustle and bustle of the city, while still being close to various San Diego attractions such as Downtown and the San Diego Airport. With beautiful beaches and plenty of outdoor activities, Coronado is a wonderful place to both vacation and call home.