We Visit # 1 and 2 on our Bike Tours!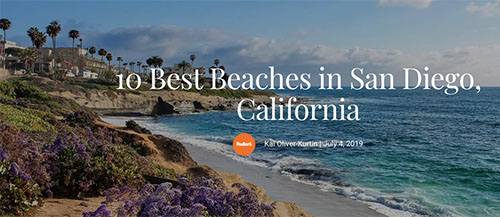 # 1 Best Beach in San Diego – Coronado
Connected to San Diego by its namesake landmark bridge, Coronado is a utopian peninsula that's often praised for its sparkling sand and prime real estate. At the north end near Naval Air Station North Island, Coronado's Dog Beach allows pooches to run free sans leash. Farther down Orange Avenue past the main business district, Hotel del Coronado is a 130-year-old luxury hotel that draws thousands of visitors annually. Steps from the hotel, Del Beach is open to the public, with ample space for sunbathers who can take a break for lunch or happy hour at the property's on-site restaurants. 
# 2 Best Beach in San Diego – Mission Beach
Located near SeaWorld San Diego, Mission Beach is home to a bustling boardwalk that's frequented by walkers, cyclists, and people-watchers. Sandwiched between Mission Bay and the Pacific Ocean, the area has a bevy of beachside bars and restaurants including Saska'ssteak house and Oceana Coastal Kitchen. The bay is popular for water sports such as stand-up paddle boarding, sailing, and Jet Skiing, but the beach is best known for its oceanfront amusement park. Belmont Park offers free admission, but guests pay for attractions and rides like the wooden Giant Dipper Roller Coaster that was constructed in 1925.
Thanks for letting us know Kai Oliver