4 Great Bike Rides You Can Do in
NY, Chicago, Atlanta & LA
New York I HAD NEVER been so happy to be on a highway in New Jersey. It was noon on a Tuesday in mid-July and I hadn't left New York City for months—since before the start of the coronavirus pandemic. I'd spent one of those months entirely in my Manhattan apartment, venturing out only to shop at the corner bodega. But as the weather gradually improved and public health guidelines emphasized the relative safety of being outdoors, I'd started to take masked bike rides that eventually extended to the waterfronts of Brooklyn and Queens. As I logged rides of 20, then 30 miles, I ached to venture farther: say, up the western side of the Hudson River, where the 9W remains the most-trafficked cycle road in the country.
Routing held me back. No bicycle-accessible bridges crossed the Hudson until you reached Poughkeepsie—a far too arduous journey—and the idea of going back the way I came seemed distastefully dull.
In June, all that changed. A new 3.6-mile-long bike path opened between Nyack and Tarrytown on the Mario Cuomo Bridge (formerly the Tappan Zee). I could now, theoretically, cycle the 20-odd miles from Upper Manhattan through New Jersey, to Nyack. Crossing the bridge and heading home via one of the designated country trails that snake through Westchester County would add another 30 or so miles. Add in a night or two's stay at a carefully chosen hotel—one offering little interpersonal contact and stringent cleaning standards—and the journey could become not just a sportive exertion but the first proper holiday I'd taken since the start of lockdown: one that let me shun public transportation, eat exclusively outdoors and spend only minimal time indoors.
I'm a hobbyist rather than an athlete, capable of long rides only if they are punctuated by frequent café-stops.
Still, the thought of a multiday excursion was daunting. As a cyclist, I'm not an athlete but a committed hobbyist, capable of long rides only if they are leisurely and punctuated by frequent café-stops. I charted routes. I checked internet forums. I had my bicycle—a slightly rickety Craigslist purchase—professionally tuned up. I coordinated plans with my husband, who decided to meet me in Tarrytown. And I set off in the late morning through Morningside Heights and Central Harlem, with a scenic detour along the ornate and ivy-strewn townhouses of Convent Avenue. A little before noon, I crossed the George Washington Bridge to Fort Lee, N.J.
Initially, I found the route unprepossessing. While leafy 9W, dotted with bike repair shops, enjoys fame among serious cyclists as a training route, it can be both monotonous and intimidating for inexperienced riders. You must share the road with cars; at some point into the ride, a welcome 8-foot shoulder appears, but often vanishes. After a few miles, however, I grew accustomed to the passing cars, the endless blur of trees, the occasional exit-stops. (A more scenic riverside route, Henry Hudson Drive, exists, but it's significantly hillier). By the time I recrossed the state line just outside Palisades, N.Y., I was so engrossed in watching my mile count tick up that I nearly missed the turning-off-point to my lunch stop: Piermont, N.Y.
After months of quarantine, I found it surreal to be in the countryside: the cottontails, groundhogs and baby deer I spotted in my journey registered as an unexpected alternative to rats and occasional raccoons. I cycled along the Piermont Marsh, past colonial houses that backed straight onto the water on both sides, and watched people gather on their terraces for barbecues. I stopped for lunch at Confetti, a waterside Italian restaurant with outdoor seating.
From Piermont I continued another hour into the adorable town of Nyack, stopping for coffee at the Runcible Spoon, a legendary spot among cyclists. I headed a few miles north on Broadway to see the backs of dozens of imposing 19th-century mansions, as well as the picnic-ready waterfront at Nyack Beach State Park.
The highlight of the day, however, was the Mario Cuomo bike path itself. A winding and beautifully signposted path, fully separated from the car lane, it runs from Clinton Avenue in Lower Nyack all the way across the river. With clear glass walls facing the waterside, and several designated stopping-points with seating and modern sculpture, the ride is as scenic as it is efficient. Even a concrete overpass is painted with sprightly green murals.
I met up with my husband at the Tarrytown House Estate, a sprawling hotel a mile south of the bridge whose expansive layout made it ideal for social distancing. Ideal on that front, too, is its outdoor dining: an expansion of the exceptional hotel restaurant, Goosefeather, with a seasonal Cantonese-fusion menu. All guests undergo a temperature check at the host station, and leave behind a number for contact-tracing purposes. I ate a tomato-watermelon salad while seated next to a tomato plant.
We stayed an extra day in the region, doing shorter rides into the cheerily bucolic hamlets of Tarrytown and Sleepy Hollow.
The best terrain of the trip, however, was the return route: from Tarrytown to Yonkers via the state trail along the site of the Old Croton Aqueduct. Free of cars, the trail meandered through the backyards of more stately villas (among them, the ruins of the Untermeyer Gardens in Yonkers), connecting at various points with the 19th-century thoroughfares of towns Hastings-on-Hudson and Dobbs Ferry, where we stopped for lunch. Learning of our journey, the waiter at Sam's Italian Restaurant loaded us up with biscotti for the travel home.
With the exception of a few nerve-racking miles in Yonkers—where the path gives way to traffic-clogged streets—the journey back into Manhattan was equally tranquil, taking us from a bike path alongside Van Cortlandt Park to the short and seamless Broadway Bridge into the Upper Manhattan neighborhood of Inwood, where much of Dyckman Street has been transformed into an open-air piazza. We stopped to buy mangoes at a street stand.
In the end, I calculated, I'd covered about 72 miles in three days—about 50 for the route itself plus another 20 for the scenic detours. That's a respectable distance but the psychological change—the act of coming to know my own city as part of a wider terrain, of seeing how its boulevards could transform into rural trailways and back again—was more distinctive still. My world, so hemmed in by coronatide, had gotten a little bit bigger.
Susan Hack recommends three biking routes that offer eyefuls of scenery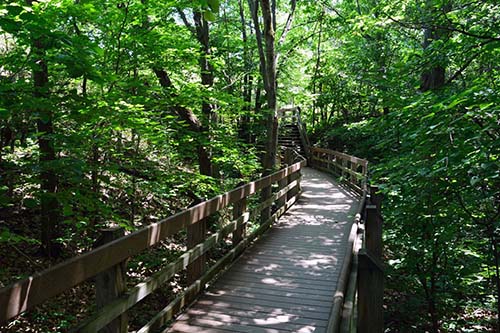 CHICAGO The 56-mile, one-way ride from the Chicago Lake Front Trail to Indiana Dunes State Park is partly on USBR 36, part of the United States Bicycle Route System, an interstate network that links urban and rural communities on bike paths and quiet roads. You pass 37 miles of landscape that transitions from old steel mills to farm and black-oak studded prairie. If you'd rather not retrace your pedals, trains leave frequently from Beverly Shores and Michigan City.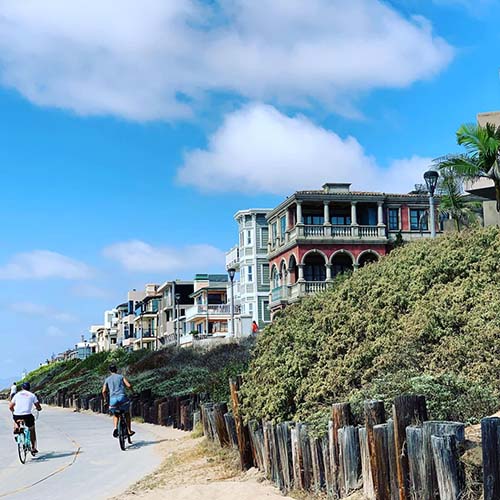 LOS ANGELES The 22-mile paved Marvin Braude Bike Trail follows the Pacific coast, from Will Rogers State Beach to Torrance County Beach, passing Santa Monica Pier and Venice Beach Boardwalk in between. Sea and sand are in view the entire route. Unless you want to race super fast (and super early) this ride is as much about people watching as it is sightseeing since you'll be riding alongside a steady stream of other cyclists.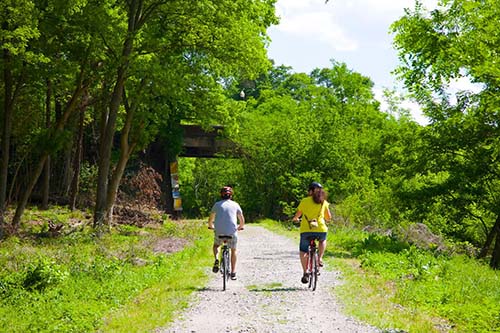 ATLANTA The Silver Comet Trail runs 61.5 paved miles from the Atlanta suburb of Smyrna to the Alabama border. It crosses rural roads here and there, but it's a mainly a worry-free, car-free ride along abandoned railway lines, including old tunnels and trestles, with tree-lined sections offering plenty of shade. Make sure your gears and brakes work well: there are steep, curvy hills, particularly between Grady and Cedartown.
Thanks for your Wisdom Tara Isabella Burton at The Wall Street Journal