Now Called Mission Bay Beach Club
We enjoyed stopping here on our latest Mission Bay Bike Tour!
from Sandiego.Eater.com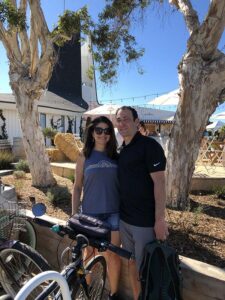 Newly renovated and re-dubbed as the Mission Bay Beach Club, the iconic Mission Bay Visitors Information Center has returned to its original purpose as a gathering space for locals and tourists with the opening of an all-vegan coffee shop called Superbloom and a forthcoming restaurant.
The back side of the building holds a bike rental and beach boutique and the prime bay-facing curve of the building is slated to become an all-day wood-fired pizzeria and wine bar called sometime next year. The gentle slope towards the building is planted with an urban vineyard that Schnell and Overacre hope to press into a house wine. "We're just at the early stages and need to see how our grapes fare on site, but so far so good," Overacre tells Eater.