A New Option for our Coronado Bike Tour!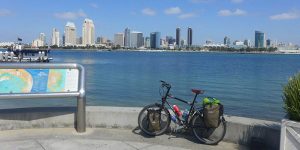 Now you can meet us in Coronado to begin our lovely tour of this beautiful Island. Up until now the only option was to start in San Diego and take the charming 15 minute Ferry ride to Coronado but we've had many requests from locals and tourists to just begin at Tidelands Park in Coronado. It's the same great bike shop providing our bikes AND it's less $! We'll enjoy all of the same highlights as the original Option 1 Tour.
Option 1: This Coronado Bike Tour begins in San Diego and takes a charming 15 minute ferry to Coronado.
NEW Option 2: This Coronado Bike Tour begins at the Tidelands Park IN Coronado.
From the Tidelands Park we'll begin our totally flat, almost car-free tour on a beautiful separated bike path. We'll visit all the shops and restaurants at the Ferry Landing, ride under the Coronado Bridge, through the island onto the Silver Strand bike path. The Silver Strand parallels the ocean and San Diego Bay, which is often referred to as the most beautiful and cyclist-friendly bike routes in Southern California.
On some of the 15 miles of dedicated bike paths we'll pass gorgeous Victorian homes, the Naval Base, home of the SEAL team 6 and stop the famous (and infamous!) Hotel Del Coronado. We may even stop for ice cream!
Coronado Bike Tour Highlights You'll Love:
Almost car-free & totally flat
Primarily on Bike Paths
White Sand beaches voted the Top 10 best in US
Hotel Del Coronado
Coronado Bridge
Coronado Golf Course
The inspiration for the Yellow Brick Road in the Wizard of Oz
Silver Strand Bike Path with the Ocean on one side & the Bay on the other
Naval Amphibious Base
Contact Us to Book Your Tour NOW! – View our Cancellation Policy